Every county in Kenya has its own advertising fees that should be paid when advertising. Apart from the rates, individuals and businesses alike should have effective advertising strategies that will help achieve their marketing campaign goals. Design hub Ltd is your go-to consulting firm for advertising rates, strategies, and implementation.
We give expert advice and services on graphic design, branding, printing, advertising, digital, Content creation, and consultancy therefore partnering with us will sieve the challenge of trying to figure out how to handle your advertising and branding needs.
Contact us today for professional advice and services!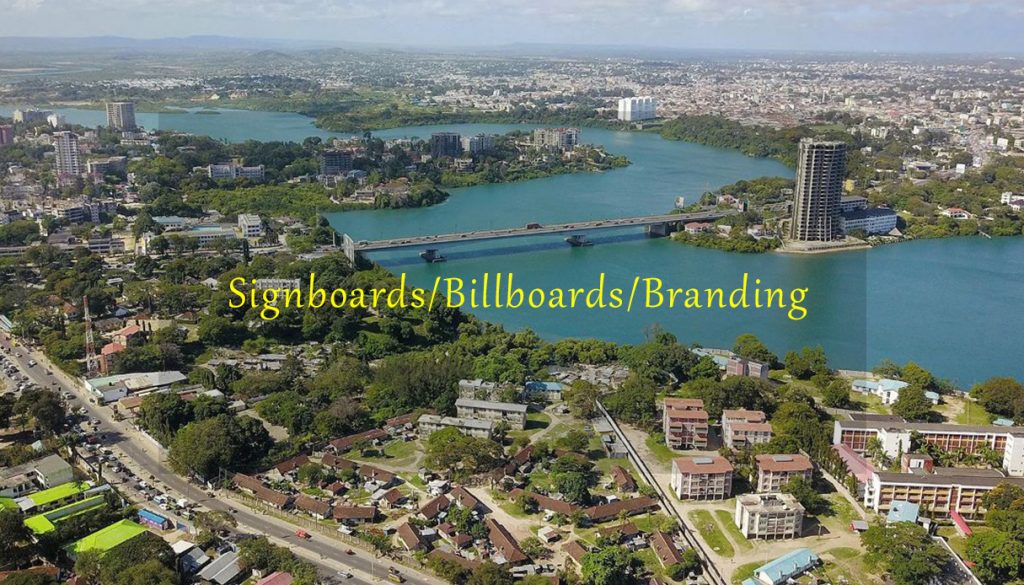 Below is an overview of Mombasa County's advertising rates.
*All rates are current and in Kenyan Shillings
Signboards Fixed on Wall/Canopy Face or Hanging under Canopy
| Description | Size and Charge | | | |
| --- | --- | --- | --- | --- |
| | 1 sq. m or less | 3 sq. m or less | 9 sq. m or less | 12 sq. m or less |
| Application fee | 2,000 | 2,000 | 2,000 | 2,000 |
| Illuminated | 10,000 | 23,000 | 47,000 | 59,000 |
| Non-illuminated | 6,000 | 19,000 | 43,000 | 55,000 |
| Additional area per sq. m or part thereof – 4,000 | | | | |
Signs Sitting Above Canopy
Illuminated 1 sq. m or less – 10,000
Non-illuminated 1 sq. m or less – 4,000
Additional sq. m or part thereof – 4,000
Directional Signs
Directional sign; 2 * 4ft per annum (not on road reserves) – 40,000
Directional sign; 4 *6ft max (excluding resident signs and not on road reserves) – 60,000
Directional sign; 8 *4ft max (not on road reserves) – 80,000
On road reserve 4x 8ft (excluding resident signs) – 100,000
2 x 6ft per annum – 80,000
2 x 4ft per annum – 60,000
Charges for Dimensional Signs in Feet
Application fees for;
Laminated – 2,000
Non-illuminated – 1,000
6*2 feet one-sided – 2,625
4*2 feet one-sided – 2,625
Directional Signs
| Type of Dimensional Sign | Size and Charge | | |
| --- | --- | --- | --- |
| | 2ft by 2ft | 3ft by 2ft | 4ft by 2ft |
| Both sided illuminated | 5,750 | 6,250 | 7,250 |
| Both sided non-illuminated | 4,750 | 5,250 | 6,250 |
| One-sided illuminated | 3,875 | 4,125 | 4,625 |
| One-sided Non–illuminated | 2,875 | 3,125 | 3,625 |
Sky Signs above Canopy and over Properties
Application fee – 2,000
Annual Fee – 200,000
Wall Wrap
Application – 2,000
Annual fee – 200,000
Letters Adverts Signage
Each letter per annum – 1,500
Banners
Roll up stand/Banner on a promotional tent or across the vehicle, 2000 per day per banner – 40,000 annually
Hand Bills
First 500 handbills – 40,000
For every additional handbill above 500 – 40
Mobile Advertisement
Advertisement by loudspeakers per day – 30,000
Promotion with tent – 15,000
Vehicle Branding
Advertisement per car for sale – 6,000
Car dealers per vehicle – 1,500
Vehicle branding per car per year – 15,000
Vehicle branding 10 cars per year – 150,000
Vehicle branding 15 cars per year – 225,000
Vehicle branding 20 cars per year – 300,000
Vehicle branding 25 cars per year – 375,000
Roadshow per truck per day – 30,000
Sandwich man/dancers advertisement per day per person – 2,000
Sandwich man/dancers advertisement per day 2 people – 9,000
Sandwich man/dancers advertisement per day 5 people – 22,500
Sandwich man/dancers advertisement per day 10 people – 45,000
Advertisement per car for sale: Privately owned cars per vehicle – 1,500
Clock Advertisement
Application fee/renewal – 5,000
Four-sided clock per year – 40,000
Three-sided clock per year – 30,000
Two-sided clock per year – 20,000
City clock 4 face – 100,000
Street Name/Suburban Signs
Application fee/renewal – 5,000
Not above 8 x 4 ft. – 80,000
Billboards
Billboards development fee (once per site) – 80,000
Application fee per annum – 2,000
Annual ground rent per site on private property – 100,000
Annual ground rent per site on road reserve – 180,000
Annual ground rent per site on road reserve – 600,000
Billboard 10 by 12 double-sided renewal – 500,000
Billboard 10 by 12 one-sided new application – 300,000
Billboard above 10 by 12 – 700,000
Bill board 10 by 12 one-sided renewal – 300,000
Gantry
Gantry development fees – 75,000
Gantry application fees – 2,000
Gantry renewal one-sided – 200,000
Gantry renewal two-sided – 400,000
Gantry for every square meter – 10,000
Bus Shelter
Application fee – 2,000
Annual fee – 150,000
Decorative canopy extensions per year – 50,000
Fun fair per day – 15,000
Digital graphic per year – 50,000
Window stickers per annum – 55,000
Car wash – 10,000
Adopt a lamp post and advertising, 5,000 per annum per lighting pole (Not less than 10 poles) – 50,000
Land Scape Schemes
Fees for plots below 0.4 ha – 4,000
Fees for plots above 0.4 ha up to 1.0 ha – 1,200
Fees for plots above 1.0 ha – 6,000

Other Advertisement
Funfair/promotional activities or sales per day – 10,500
Airborne adverts, i.e. airplane, balloon, etc. fees per fortnight – 20,000
Display of flags advertising product per fortnight on premises – 21,000
Umbrella per day per piece for promotion – 1,500
Branded containers/caravan per annum – 50,000
Teardrops banners per day – 2,000
Other wash lines per piece per day – 150
Hoarding /scaffolding per 2 months – 100,000
Window sticker per shop per annum – 60,000
Lamp Post Advertisement
Application fee – 2,000
Annual fee per post – 40,000
Advertisement on Canvas
Application fee – 2,000
Charge per sq. m per year (branded) – 2,500
Non-branded canvas on public walk-out – 3,000
Change of user board and construction boards fees per annum – 50,000
Occasional Adverts
Application fee out – 2,000
Charge on occasional advert per fortnight – 24,000
Branded Sales Outlets
Ice cream cab per year – 9,000
Ticket booth/lottery kiosk – 7,000
Coca-cola / mineral drinks kiosk – 15,000
Push/wheeled trolley – 7,000
Telephone kiosk – 7,000
Erection of fence /Makuti for outdoor preaching (per month) – 20,000
Try-Cycle Advert
Ice cream /sausage/eggs/chips/crisps cab per year – 9,000
Push /wheeled trolley – 7,000
Tuktuk Branding – 7,500
Motorbike Branded – 7,500
Booth Advertisement
Ticket booth /lottery kiosk – 7,000
Kiosk Advertisement
Coca-cola /mineral/drinks/Airtel/Safaricom kiosk – 15,000
Multiple Motion Advert/LCD Screen
Application fee – 2,000
Multiple motion advert screen first 1.0 sq. m per annum – 50,000
For every additional sq. m – 6,000
Film video shooting within Mombasa County jurisdiction and Historical sites per day – 7,500
Advertisement on a mall/shopping barrier per day – 5,000
Storage charges – 1,000
Petrol Station
Petrol station branding per year – 120,000
Soda bottle (Air floats/Cigarettes pole/Oil) – 60,000
Street lighting pole – 75,000
Street name pole (two faces) – 95,000
Stadium Advertising Exclusive Rights
Class A – 1,000,000
Class B – 200,000
County grounds – 20,000
Advertising Penalties
Illegal signs removal charges – 3,500
Illegal signs storage charges per day – 1,500
Illegal barriers removal charges per instance – 3,500
Illegal barriers storage charges per day – 3,500
Illegal gates removal charges per instance – 11,000
Fees for removal of posters by county government per company brand – 100,000
Each removal of unwanted advertisement signage – 50,000
Removal of billboards – 100,000
Removal of illegal barriers – 50,000
You can also look at Kiambu County advertising rates
For further enquiries Call / SMS / WhatsApp +254 707 624 629/ +254 733 624 629 or email to brand@designhubconsult.com