The African culture has a distinctive way to identify a  new born and that is through a name.But in modern world,a name is not enough to define a personality.
A signature is the new personality.But the question is,why a doodle of lines and letters count.According to wikipedia, a signature is  a handwritten (and often stylized) depiction of someone's name, nickname, or even a simple "X" or other mark that a person writes on documents as a proof of identity and intent.But a Kenyan rugby player ,Collins Injera could add meaning with actions involving tucking a permanent marker pen into his socks to sign a ball and a camera upon his 200th trial score in World series.But why?
History has it that basic functions of a signature is to provide:
The provenance of the document (identity)
The intention (will) of an individual with regard to that document
But in the modern world;
It's defines origin
It's a status symbol
It's a trophy
Arthur guiness signature has evolved to become a trademark.Mark of Origin.

Famous and Philanthropic personalities have their signatures rated and associated with wealth.A status symbol.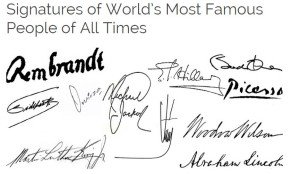 But  a signature is the new trophy.
In the rugby series,Collins Injera signed a ball and a camera lens worth over 8000 euros to celebrate his 200th trial.This marked the journey to make it to the Arthur Guiness signature  status.Creatives and innovators will soon commercialize and embed his signature as a measure of success towards their own independent achievements.But the majority of us will own this signature as a trophy.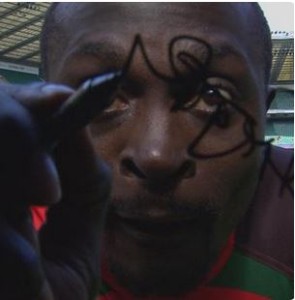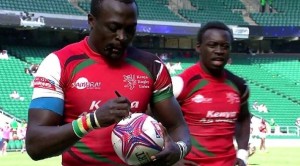 But trouble lies ahead,how to compensate  the camera owner.
Be careful with how often you change your signature, as it may result in identity confusion if it doesn't match your ID, driver's license, the way you have signed up at the bank, or even your library card.
Keep your official signature fairly simple. Having to recreate an elaborate, time-consuming monstrosity every time you buy groceries will get old quickly.