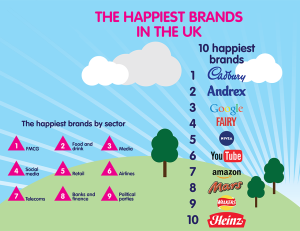 According to Isobel, happy brands are determined by five core characteristics: whether they are playful, happy, trustworthy, generous or optimistic. "We felt these five values explained a lot of the differences in the way that people would consider a brand to be happy or not happy," says Hastings. "We think that brands facilitate happiness in a short-term instant gratification way but also longer-term by reinforcing a consumer's personal identity and making them feel better about the world.
Brand
Can a brand help improve a consumer's state of mind or even dare to make them happier? That's what marketing for brands like Coca-Cola, are on. Trying to make you relate with their product.
By understanding how millennials find fulfillment in their lives, brands can play a meaningful role to support and enhance their pursuit of happiness," said Linda Tan, strategic insights director for Zenith Opti media Worldwide.
With that in mind, these brands, which have used myriad positive campaigns for decades, have amplified and personalized that type of messaging. McDonald's used the Super Bowl to kick off a new in-store campaign, Pay With Lovin', where randomly selected consumers would be able to use emotional connection as a currency. The campaign is part of the brand's new push to lean into the love aspect of its "I'm Lovin' It" brand slogan. The in-store campaign lasted two weeks, served over a million people and boosted the brand's perception online from roughly 30 percent positive or neutral brand perception in 2014 to 85 percent positive or neutral, according to McDonald's.
According to the research, the way to jump up the happy rankings is not in 'poisoning the world with message-driven advertising' but through employing good old-fashioned charm: using a carefully tailored tone of voice and showing that the brand owner is 'human'.